Stop your senior dog slipping with our
natural

solution
We've helped over 100,000 dogs find their feet and confidence again
10% Discount

for New Customers
The scientifically tested product that:
Helps your dog stand and reduces the chance of slipping injuries.
Prevents slipping without interfering with your dog's natural stride.
Increases your dog's confidence so they can be part of the family again.
10% Discount

for New Customers










Dogs hate things on their feet…
That's why ToeGrips® dog nail grips are designed to be simple and subtle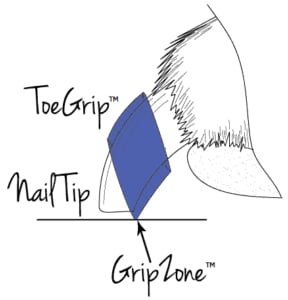 Naked traction, so your dog won't even know they're there
ToeGrips are unique because they give your dog traction at the exact point they need it, called the GripZone™.
Unlike other products that can cause discomfort and frustration, ToeGrips are scientifically proven not to interfere with your dog's natural stride.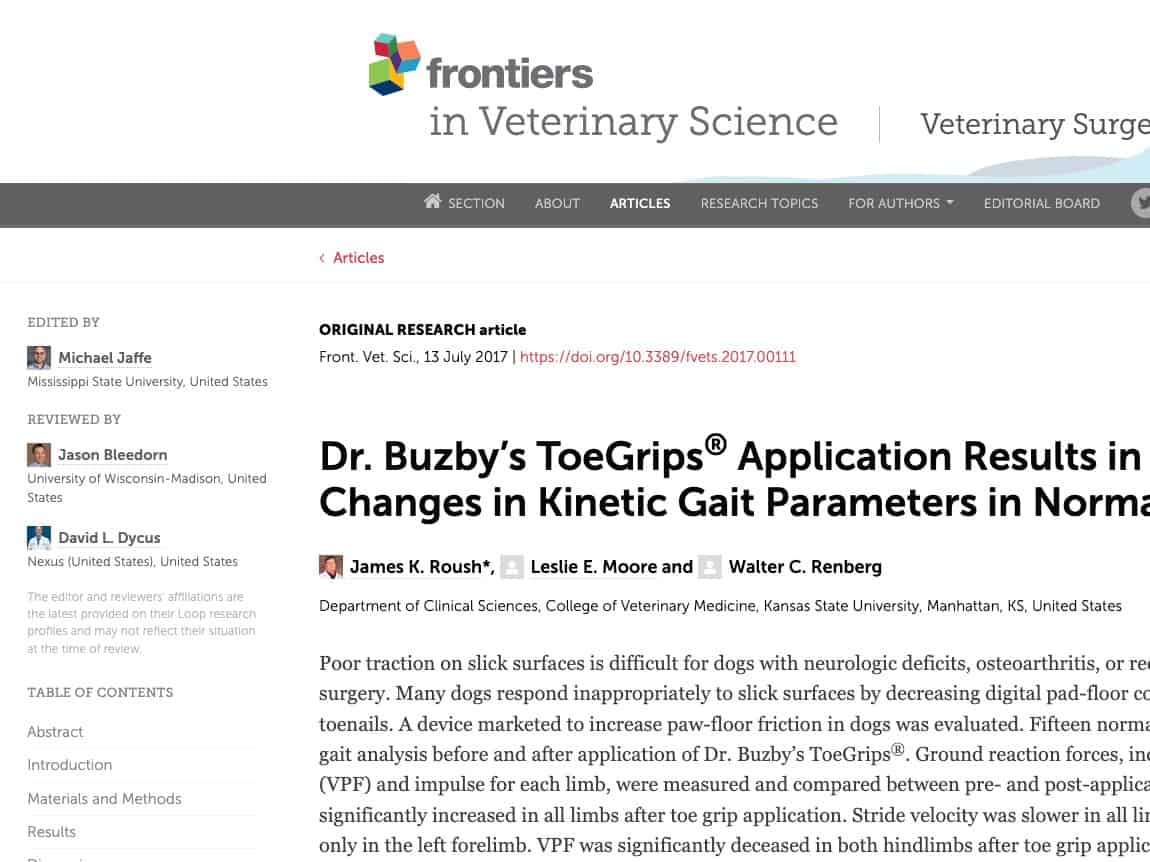 Loved by dogs, endorsed by veterinarians
Scientifically tested by a leading U.S. college of veterinary medicine
Developed by an integrative veterinarian with 25 years experience
Recommended and sold by thousands of veterinarians worldwide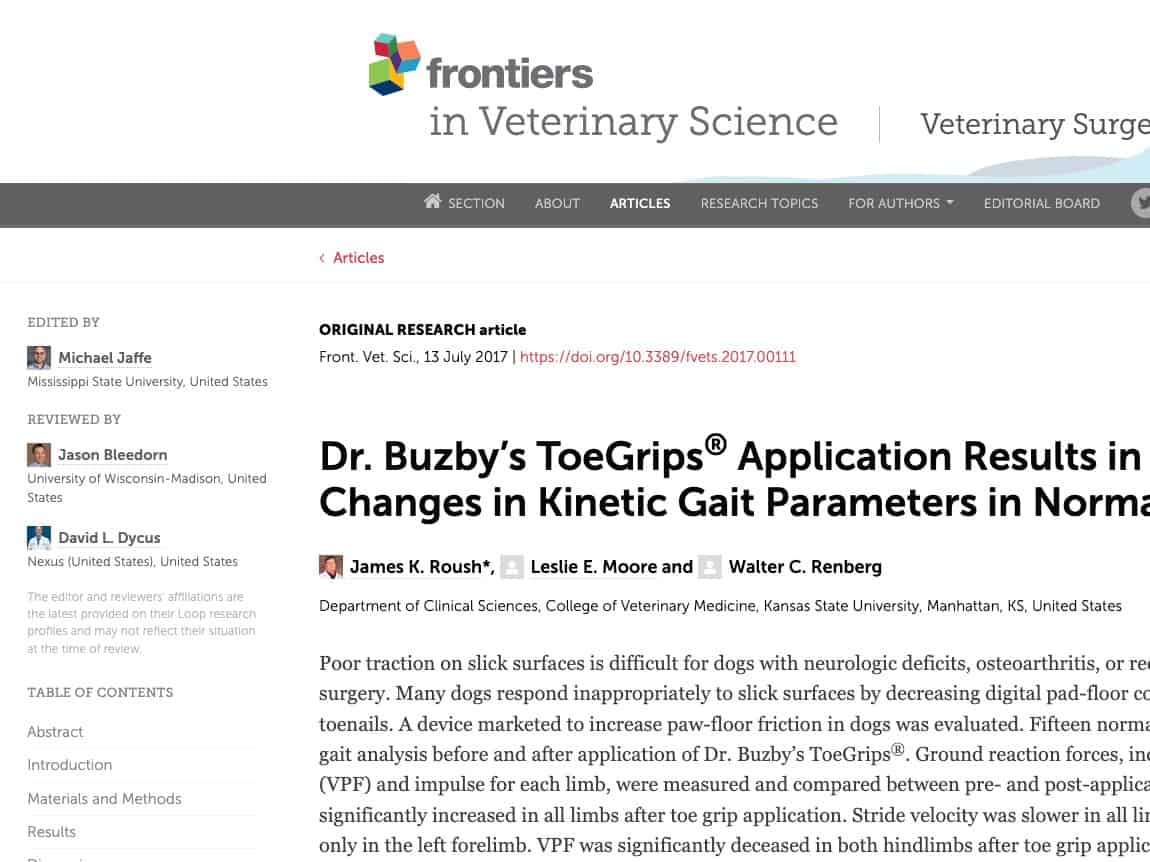 10% Discount for New Customers
Real

dog parents,

real

reviews
We added more rugs so she could get more traction which helped, but the best thing was a friend suggesting I try Toegrips!
Mary A.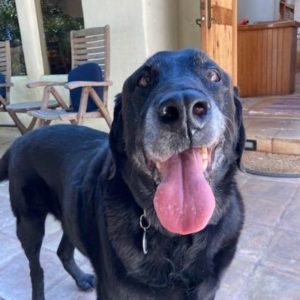 His poor little legs would slip and slide on my hardwood floors and I had rugs, blankets, yoga mats, you name it, all over my house to prevent falls.
Penelope L.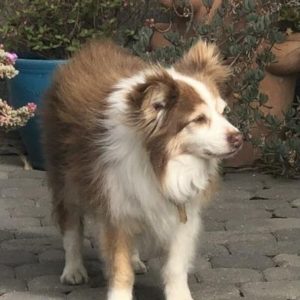 Now, he never skitters around the corners and we've been able to remove many of the extra mats and rugs!
Danielle S.
Our Sam turned 12 this month and these have made a world of difference for him. Due to the pandemic I started working from home in March from our upstairs office. Sam tried to come up the stairs, thought differently and ended up tearing his ACL when he slipped and fell on our tile. He became terrified of walking across the tile, and would try to run and fell a couple of times. I tried a "couple" of other remedies (stick ons, rubber booties- see pic, trimming the hair, dremeling his nails shorter, etc.). I put the toe grips on and after a few days he's like a new man!
Sue C.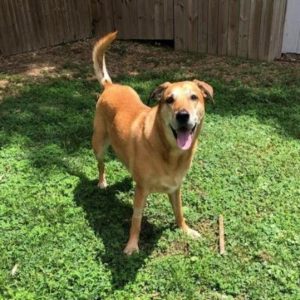 If you're anything like me, you've tried everything from traction socks to those boots on amazon to help with slipping problems. You're feeling discouraged from nothing working to simply help your dog walk. Well let me tell you- look no further. My 7 year old Shepard/ lab mix, Griffin, has been through it. After having 2 surgeries on his back legs he could not walk on any flooring other than carpet or outside. It was heart breaking. Now, thanks to these ToeGrips, he walks confidently on any floor and doesn't fall!!!!
Amanda F.
10% Discount

for New Customers
Your dog deserves the very best
Learn how ToeGrips compare to other traction products…

No gluing or adhesive required




No interference with dog's gait




Developed by
a holistic veterinarian




Lasts for 1 month or more




Allows the paws to sweat and breathe 




Does not require scissors or dremel to remove




Not affected by contact with water




Only ToeGrips create the patented Grip Zone for traction…naturally
No gluing or adhesive required










No interference with dog's gait





Developed by a holistic veterinarian





Lasts for 1 month or more





Allows the paws to sweat and breathe 





Does not require scissors or dremel to remove





Not affected by contact with water





Only ToeGrips create the patented Grip Zone for traction…naturally
An
immediate change

in your dog…
That we know will change your life too
10% Discount

for Customers